November Garden Calendar
Stockton Onions & Other Winter Vegetables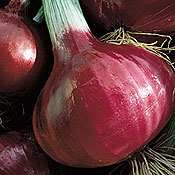 November is the month when stockton onions are available as young starts. They are usually available around the 1st or 2nd week of November. We also get the yellows, whites, walla walla onions and torpedo onions at the same time. These are great onions to plant now for late spring to early summer harvest.
In addition, it is still a good time to plant garlic, lettuce, spinach, cabbages, broccoli, cauliflower, beets, turnips, radishes and many other winter crops.
Spruce up your garden with beautiful winter flowers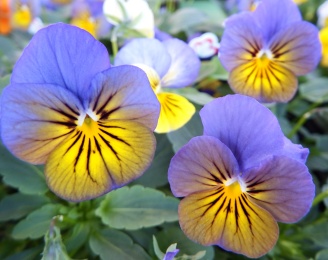 If you haven't already, it's time to change out the summer annuals and replace them with pansies, primroses, cyclamen, stock, or snapdragons. These flowers will bloom all winter long and into the spring. Freshen up the yard with these colorful flowers before the holiday season begins. Remember to ammend the soil with Gold Rush or Rose Planting Mix when planting to improve the soil and help the flowers grow well through the winter.
Fruit Tree Care
Now is the time to begin the winter fertilizing of your fruit trees if you haven't started already. Use Master Bloom or Ultra Bloom(0-10-10) with F.S.T. (iron, sulfur, maganese, and zinc) monthly until February. Be sure to water in the fertilizer unless it is raining. You can also apply these two products on flowering shrubs like azaleas, rhododendrons, and roses to enhance flowering and improve overall health of your plants.
Great time to Plant Berries
Blackberries, raspberries, boysenberries, loganberries, currants, blueberries, rhubarb, and artichokes usually arrive this month. Many varieties are only available during the winter. They are usually available through the middle of January.
Hydrangea Care
Time to cut back certain varieties of hydrangeas. The newer hybrids can be cut back severely if needed and will still bloom in the spring because they bloom on old and new wood. Some of the older mophead varieties should only receive light pruning for shaping purposes this time of year and heavier pruning in the late summer. Apply HYDRA-BLUE to the hydrangeas that you want to turn more blue. Reapply in early spring.
Watering Tips
You should have reduced the number of days and amount of time you are watering since the temperatures are beginning to cool down and the daylight hours are shorter. Some years we have rain in November, some years we don't. If we don't have any rain, you will still need to water, but won't need to water as frequently.
Lawn Care Tips
Fertilize your lawn again with Master Nursery Fall & Winter Feed or E.B. Stone Nature's Green Lawn Food to keep the lawn looking good through the winter months. Watering after applying fertilizer is still recommended unless it is raining. Also, in the winter, you should adjust your mower settings a little lower to allow more air flow and help reduce fungus issues.