January Garden Calendar
What Can I Plant Now?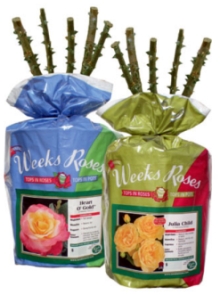 Bareroot fruit trees, bareroot roses, and bareroot grapes, and berries are available during the month of January. This is an excellent time to save money and get top quality trees, roses, grapes and berries. Some varieties are only available this time of year. By planting now in the cooler season, plants usually acclimate better.
Asparagus, rhubarb, and many other winter vegetables can be planted for early spring harvests. Also, primroses, pansies, snapdragons, cyclamen, and calendulas can be planted to add winter color.
Protect your plants from Frost
Traditionally, January is a pretty cold month and some of your plants may need to be protected if temperatures drop below 30 degrees.
For detailed information, check out our Frost Protection Page.
Rose Care
If you haven't pruned your roses back for the winter yet, then now is the time to do it. Remove canes that are weak and are growing toward the center of the rose bush. Traditional roses should be trimmed back to at least half their height, usually no shorter than 18 to 24 inches. Climbing roses should be trimmed back to whatever they are being grown on and some of the branches should be removed. Groundcover roses like drift roses and carpet roses can be pruned for shape and treated like a shrub.
This month you should feed your roses with 0-10-10 (Master Bloom) and F.S.T. (an iron, sulfur, maganese, and zinc supplement). This will help improve the flowering and strength of the rose bush.
For more information about roses, go to our Rose Care Page.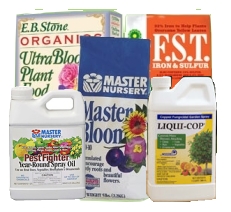 Fruit Trees
It's time to fertilize your fruit trees again with 0-10-10(Master Bloom) and F.S.T.(an iron, sulfur, maganese, and zinc supplement) to help ensure a better fruit crop this year and to strengthen your trees. You'll repeat this feeding again in early February.
Also it is time to spray your dormant fruit trees with Liqui-Cop and Master Nursery Horticultural Oil to kill off any unwanted fungus and any insects that may be wintering over. These products can be sprayed together at the same time. You'll spray again next month as well. It's best to spray when there will be a day of no rain.
Lawn Care & Maintenance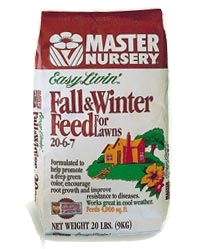 With the cooler weather, adjust your lawn mower to cut the lawn a little shorter. This will allow better air flow and less disease issue. It's time to fertilize again with Master Nursery Fall & Winter Feed unless you have fed your lawn in the last few weeks. Remember to water your lawn after fertilizing unless you apply it while it is raining. Speaking of rain, water your lawn about once a week unless it rains. If we get heavy rains, then you won't need to water your lawn at all.
What's Coming Soon
Potatoes will be available soon. They usually show up around the end of January to the first part of February. They can be planted anytime between late January to late March.
Summer flowering bulbs usually arrive in late January and are available until March. Dahlias, gladiolus, begonias, asiatic and oriental lilies, and many other flowering bulbs will be available to plant.