March Garden Calendar
When Should I Plant Tomatoes, Peppers, and Other Summer Vegetables?
That is a question we here a lot. Of course, the answer depends on the weather and how much care you are willing to give them at the beginning. We start bringing in tomatoes and peppers around the first week of March and then continue to increase the varieties and types of vegetables as the weather improves. If you have a greenhouse or some way to protect the young vegetable starts from the cold nights, then you can begin in the beginning of March. If you would rather not fuss with trying to protect your vegetables from late frosts, then we recommend waiting until mid to late March or even April before planting.
Also, if you still have Winter vegetables growing, you may want to wait to plant your Summer vegetables so that you can continue enjoying them before giving up your space for the summer vegies. We will have all of the summer vegetables during the entire Spring, so don't feel rushed if you aren't quite ready to get your Summer vegetable garden started.
For those anxious to get started, this is the time to start turning the ground if you haven't done so already. Add compost and turn into the top 6 inches to foot of soil. We love using PayDirt when preparing your garden beds because of the high manure content it contains. If you need to really loosen the soil, then you may add some Gold Rush in addition to the PayDirt. John's favorite soil conditioner for raised beds and containers is the Rose Planting Mix. Try it and see how well it works. If you are considering growing vegetables in containers, we have Smart Pots available in 3 different sizes that work great for growing vegetables.
The first of the summer vegetables to be ready for sale are usually tomatoes. They are available in 4inch containers and some varieties are available in 6packs. As the weather becomes consistently warm, other summer vegetables like peppers, eggplants, beans, corn, squash, and cucumbers become available with the rest of the summer vegetables popping up during the end of March and beginning of April.
What Should I Be Doing With My Fruit Trees at This Point?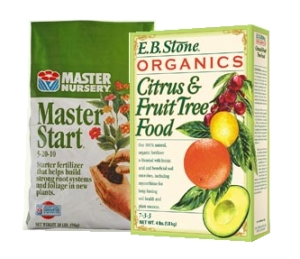 This is the month to fertilize your fruit trees. For established fruit trees, we recommend applying Master Start or EB Stone Fruit Tree & Citrus Food in mid to late March. These fertilizers focus on fruit production with less growth. If your trees are young, you may consider using the Master Nursery Fruit Tree & Vine Food or the Master Nursery Citrus Food. These fertilizers have a higher nitrogen content and will encourage more growth to help your trees get to the size they need to be for fruit production. Apply another application of fertilizer again in late May / early June.
Protect your Apples and Pears from Worms.
If you have apples, pears, or asian pears that seem to have worms in the fruit, then now is the time to stop the codling moth from laying eggs on your fruit trees, which will turn into the worms that you find later in the summer and fall. Usually you can hang the codling moth traps in your fruit trees during March and April to help stop the codling moth. For complete step by step instructions and to learn more about worms in your fruit trees, go to our Keeping Worms out of your Apples Page.
How to Control Unwanted Pests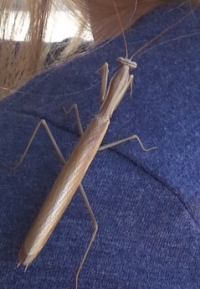 There are several ways to keep unwanted pests out of your yard. If left unchecked, snails, slugs, caterpillars, earwigs, aphids, and other insects can do damage to young vegetables, fruit trees, roses, and other plants in your yard. One way to control aphids and several other insects is by placing beneficial insects like ladybugs and praying mantids in your garden. Ladybugs come in containers and if placed in your garden in the evening can stay around long enough to lay eggs so that you can get several generations of ladybugs in your yard to combat aphids and other small insects. Praying mantids are available in egg cases and can be put in the garden where they will hatch in mid to late Spring to take care of larger insects.
Of course, ladybugs and praying mantids are not going to solve all of your insect issues. You may need to use products like Sluggo Plus, an organic product, to take care of slugs, snails, earwigs, and sowbugs, or Bonide's Captain Jack's Dead Bug Brew for worm, moth, and beetle issues, or Monterey Take Down (an organic blend of pyrethrin and canola oil) or Bonide's Tomato and Vegetable Spray to control aphids and other unwanted pests that you find in your garden.
If you are unsure what product to use or aren't sure what type of insect issues you are dealing with, please feel free to call us or visit us so that we can help you use the right product for the best result.
Rose Care
Time to fertilize your roses with E.B. Stone Organics Rose & Flower Food. This will help create beautiful flowers. If you struggle with aphids on your roses you may consider using Bonide's Systemic Rose & Flower Food instead. This will keep the insects away while feeding your roses.
Depending on our weather, you may need to combat black spot, powdery mildew, or rust on your roses. The Monterey Liqui-Cop is a good product for disease control and can be used throughout the season as needed. For more information about roses, go to our Rose Care Page.
Watering Tips
As the temperature begins to warm up and depending on the amount of rain we are getting, you may need to begin watering on a more regular basis. Remember winds can dry up young plants in a hurry and newly planted flowers, vegetables, perennials, trees, and shrubs will require more consistent watering. For tips on how to water more efficiently visit our Water-Wise Tips Page.
So What Should I Do to Help my other Shrubs and Trees in the Yard?
Most of your shrubs and trees would benefit from a feeding of a general purpose fertilizer like Master Start or 16-16-16. Generally, your shrubs and trees will be happy if they are fed at least twice a year, once in the Spring and once in the early Fall. Remember to water after applying fertilizer.
In addition to fertilizing, this is a good time to do light pruning and shaping if needed on your shrubs and perennials.
When to change out Winter Color for Spring Color
Starting in mid March, we will begin to have the summer annual flowers like impatiens, begonias, alyssum, lobelia, marigolds, cosmos, and more. Your Winter flowers will probably be still doing well and can keep blooming well into Spring. You should continue to enjoy your Winter flowering annuals at least through the month of March and start thinking about replacing them some time in April unless you are ready for a change.
Need a Little Inspiration?
Are you wanting to spruce up your yard, but are lacking the inspiration? We suggest you come out to the nursery and walk around and enjoy all of the plants that are beginning to wake up from dormancy and are beginning to flower. Flowering plums, pears, and cherries bloom during the month of March as well as daphnes, pink jasmine, tulip magnolias, carolina jessamine, erysimum, nemesias, spanish lavenders, and many other plants. Japanese Maples are absolutely gorgeous as they begin to leaf out in mid to late March. It's a great time to visit the nursery and see Spring in action. Also, we receive multiple shipments every week of flowers, vegetables, shrubs, trees, perennials, and succulents. If you don't find something the first time, come back again and see what's new the next week.