Albion
Everbearing variety. Albion is a release from UC Davis. Fruit is long, conical, symmetrical; firm and crisp with excellent flavor. A great berry for preservation, processing, and storage. A great strawberry plant for use in a hanging basket.
Camarosa
June Bearing variety. Camarosa has huge, conical berries over a long season. Berries are of show quality and good flavor. Adapted for California.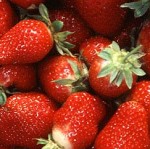 Chandler
June Bearing variety. Chandler produces large, juicy berries over a long period. Excellent flavor and good texture. Good dessert and freezing quality. A long time favorite in California.
EverSweet
Everbearing variety. Perfect for patio gardens. This everbearing plant produces sweet, long, cone-shaped strawberries in its very first year! It will continue producing, even when temperatures exceed 80ºF. Ripens each summer and continues to fruit into fall.
Monterey
Everbearing variety. Monterey strawberry is a moderate day-neutral cultivar from California. It has great flavor, like Seascape, while more tolerant to high summer temperatures.
Quinalt
Everbearing variety. Produces large, attractive berries that are tasty. Fruit is too soft for fruit stands but good for home gardens.
Seascape
Everbearing Variety. Seascape produces large berries that are very good for eating fresh, for jam, and for freezing. Great for California.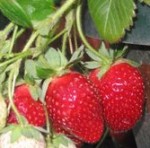 Sequioa
June Bearing variety. This is one of the tastiest strawberries. It bears for many months and in California almost acts like an everbearing variety since it produces for so many months.
Sweet Charlie
June Bearing variety. Just as the name implies, the Sweet Charlie Strawberry berries are sweet and produce large, firm berries.
Tri Star
Everbearing variety. Tri Star porduces large berries with excellent flavor. Also bears well the first year.