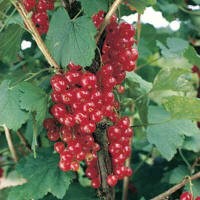 Cherry Red Currant
Developed by the Washington State Department of Agriculture. Large, dark red fruit with acid flavor. Fruit is high quality and excellent for jams, jelly, and sauces. Plants will grow 4 to 6 feet tall and 2 to 5 feet wide. Commonly grown commercially but can also be used as edible ornamentals or hedges. Bears fruit well but attracts aphids. Resistant to powdery mildew. Hardiest and best yielding currant.
Crandall Black Currant
Clusters of large black currants with sweet tart flavor that are excellent for jams, juice, and syrup. Crandall Black Currants have five times the vitamin C of oranges. Bush is upright, dark green leaves, very productive. Ripens in mid July.
White Imperial Currant
Loose clusters of beautiful, white, translucent fruit with pink blush that varies in size from medium to large. Seeds show through the flesh and skin, looking somewhat brownish in color. Richest and sweetest flavor of all currants. Similar to red currants in size and hardiness. Ripens in mid-July.
Wilder Red Currant
Originated in Indiana. Large clusters of dark red, medium sized berries. Fruit is of a very good quality. Heavy bearing, vigorous, tall stemmed plant will grow 4 to 6 feet tall and 2 to5 feet wide. Wilder is a good variety for market or home use. Wilder has a long fruit bearing season, from July 1st to the 20th.