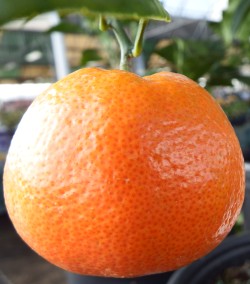 Mandarins are sometimes referred to as tangerines, and recently they have been given the name "Cuties" in the supermarkets. "Cuties" is not a specific variety of mandarin. Basically any variety of mandarin in season that fits the growers criteria may be called a "Cutie".
Owari Satsuma - One of the hardiest mandarins. Fruit ripens in November - December in Northern California. The fruit is medium sized, seedless, and has loose easily-peeled skin. The taste is mild, sweet, and juicy. This is one of our favorites.
Shasta Gold - Fruit is seedless and moderately large size. Rich and sweet flavor when mature. Ripens in Spring. Tree growth is vigorous.
W. Murcott - Fruit is tender, juicy, mild and sweet. Sometimes called Florida Honey. Ripens in Spring. Contains some seeds.
Gold Nugget - Fruit is seedless, richly flavored and easy to peel. Fruit ripens in Spring and can hold its fruit into the summer. Also very cold hardy.
Tahoe Gold - This moderately vigorous mandarin produces large oblate fruits that have an attractive dark orange rind that is relatively thin. The flesh is seedless, bright orange, finely-textured and juicy. The flavor is rich and sweet when mature. Ripens late January to late February.
Tango - This is a University of California introduction. It's a Clementine type and is basically W. Murcott without seeds! Deep orange colored fruit with sweet flavor. Ripens in January, and fruit holds well on the tree into April.