About Mid City Nursery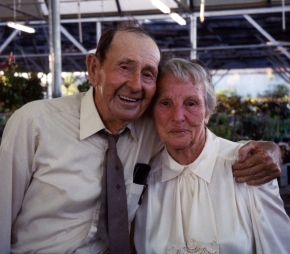 John "Mickey" and
Wilma "Dollie" Mikolajcik
Mid City Nursery, Inc. was founded in 1954 by John J. "Mickey" and Wilma "Dollie" Mikolajcik in American Canyon. The nursery's first day in operation was July 15, 1954. The first day's sales was $0.98. Mickey always said that he never earned his first dollar. Mickey and Dollie worked hard on developing the nursery and also making American Canyon a better place to live. Mickey is known officially as the "Father of American Canyon" because of his tireless service and commitment in helping make American Canyon into a city. Mickey Mikolajcik passed away in January 2008 and was actively involved with the nursery until the week before he peacefully passed away. Dollie recently passed away on July 30, 2014. Until just a few months before her passing, she would often visit the nursery, almost daily. Both Mickey and Dollie have left a wonderful legacy of hard work, kindness, honesty, and a love for people and plants. Currently, John Mikolajcik, Mickey and Dollie's son, and John's son, Jake, currently own the nursery.
At Mid City Nursery, service and plant quality has always been the main focus as well as maintaining a wide variety of plant material. The nursery provides a wide variety of fruit trees, roses, shade trees, perennials, shrubs, conifers, water plants, house plants, cacti, succulents, annuals, vegetables, and many other unusual and exciting plants. In addition, we try to make available to our customers the newest releases of plant material available on the market.
Besides stocking a wide variety of plant material, we are willing to help our customers find the plant that they want. If we don't have a certain plant in stock, we can try to locate it for you. Our goal is to help you be enriched and satisfied with your yard and garden.